Homemade spring rolls
How to cook Homemade spring rolls: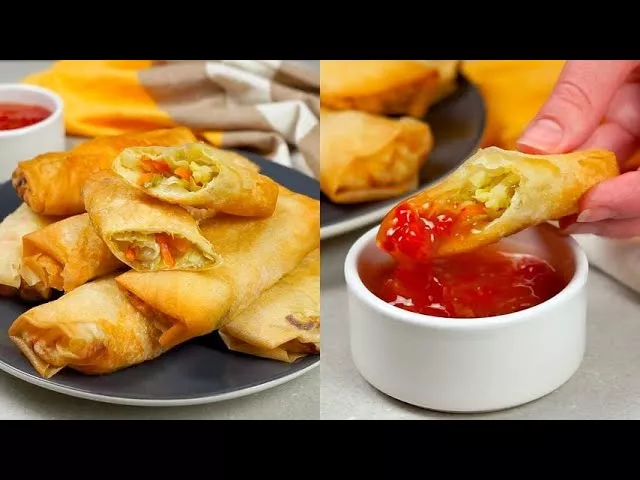 INGREDIENTS

8 spring roll sheets (21.5 x 21.5 cm)
300g cabbage, thinly sliced
60g carrots, thinly sliced
1 onion, sliced
30ml (1 oz) rice wine
Salt to taste
Black pepper to taste
Oil (for frying)
1 egg white (to seal the rolls)
Spicy Thai sauce (for serving)
METHOD
Thinly slice vegetables.
In a pan heat the oil, add onion, and fry for 1 minute.
Add carrots, and cabbage, and stir.
Season with salt and pepper and pour in rice wine. Fry stirring occasionally for 4-5 minutes.
Arrange one sheet at a time on the working surface with a corner facing you and add a handful of filling on the lower half.
Fold the bottom corner up and roll to cover the filling, then fold the corners on the sides towards the center.
Roll up the roll from bottom to top and seal the pastry by moistening the edges with a little egg white. Continue with the remaining rolls.
Heat oil in a pan until it reaches 180°C/360°F. Lower the heat slightly and fry a few rolls at a time, turning them on both sides, for approximately 3-4 minutes. Drain on paper towels.
Serve with spicy Thai sauce and enjoy.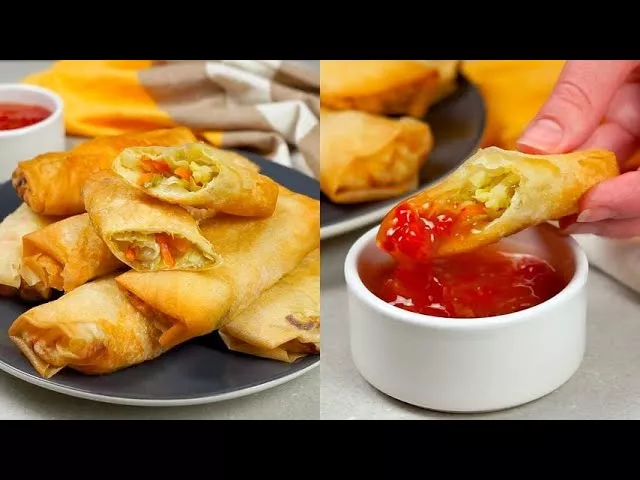 More recipes from channel - Cookist Wow
Other category recipes - Breakfast
Add recipe