Pastry flowers
How to cook Pastry flowers: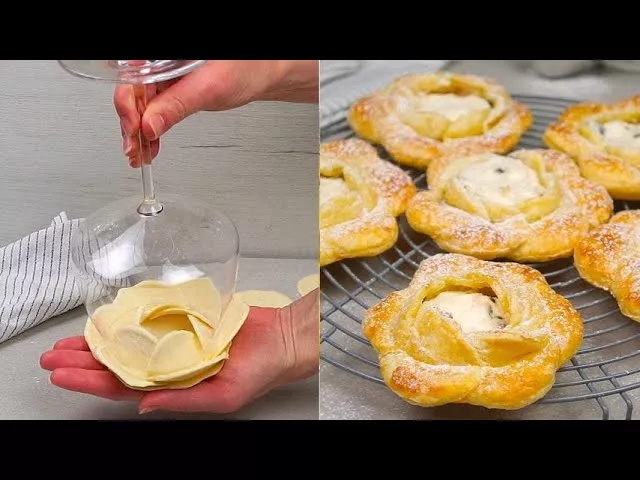 INGREDIENTS
300g ricotta
30g (3 tbsp) powdered sugar
40g (1/4 cup) chocolate chips
2 sheets of puff pastry
1 egg, beaten
Powdered sugar (for decoration)
10g (1 tbsp) flour (to dust the glass)
METHOD
In a bowl combine ricotta, icing sugar, and chocolate chips. Mix well and set aside.
Place puff pastry sheets on a working surface. Use a wine glass, 5 cm in diameter, to cut out flower petals, and 6-7 cm in diameter to cut out 6 flower bases.
Place flour on a small plate. Holding the glass by its stem, carefully dust the rim of the glass in flour.
Arrange 6 5cm rounds on the rim of the glass, slightly overlapping each other, and top with a 6cm base.
Turn the glass upside down on your hand to get the flower out of the glass. Continue with the remaining pastry.
Arrange pastry flowers on the baking sheet lined with parchment paper.
Spoon ricotta mixture into the heart of each flower and brush the edges of the flowers with an egg.
Bake in the preheated to 190°C/380°F oven for 18-20 minutes.
Decorate with powdered sugar on top and enjoy.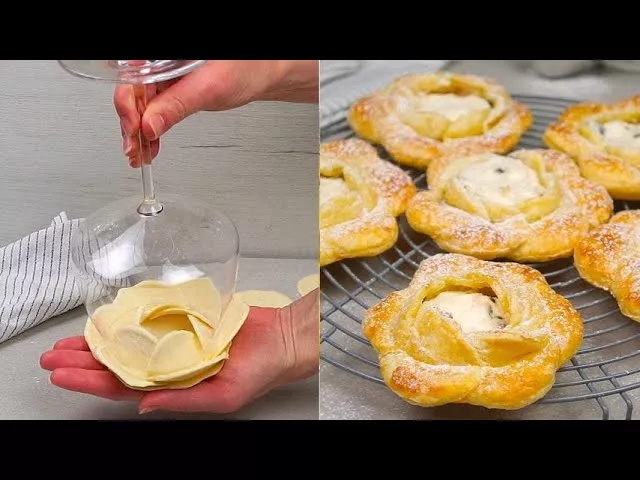 More recipes from channel - Cookist Wow
Other category recipes - Desserts
Add recipe