Banana Pudding
More recipes from channel - The Stay At Home Chef
How to cook Banana Pudding: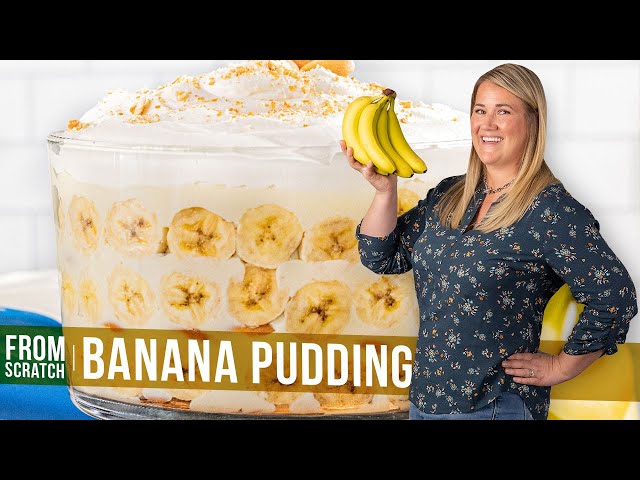 Ingredients

• 6 cups homemade vanilla pudding
• 4 bananas, sliced in coins
• 8 ounces Vanilla wafer cookies
• 4 cups homemade whipped cream
Instructions
Make vanilla pudding and whipped cream as instructed. Let pudding chill completely.
Line the bottom of a 9x9 baking dish with wafer cookies, top with half the banana slices and then top the banana slices with half of the vanilla pudding.
Repeat the layers and top with whipped cream and vanilla wafer cookie crumbles if you desire.
Cover tightly and let chill until ready to serve.
Vanilla Pudding Recipe:
5 tablespoons butter
3 tablespoons cornstarch
4 cups heavy whipping cream
1/4 cup sugar
1 1/2 cups white chocolate chips
2 teaspoons vanilla extract
In a medium saucepan, melt butter over low heat. Once completely melted, add in cornstarch and whisk until well combined. Let cook 1 minute.
Whisk in heavy cream and sugar. Stir continually while slowly increasing the heat to medium-high.
When the cream thickens and starts to simmer, immediately remove the pan from the heat. Stir in vanilla extract and white chocolate chips until completely melted.
Cover and let cool in the refrigerator for 30-60 minutes.
Whipped Cream Recipe:
3 cups heavy cream
1/3 cup powdered sugar
2 teaspoons vanilla extract
Using a chilled bowl, combine these 2 ingredients and whip until stiff peaks form.
Other category recipes - Desserts
Add recipe