Mango Falooda
How to cook Mango Falooda: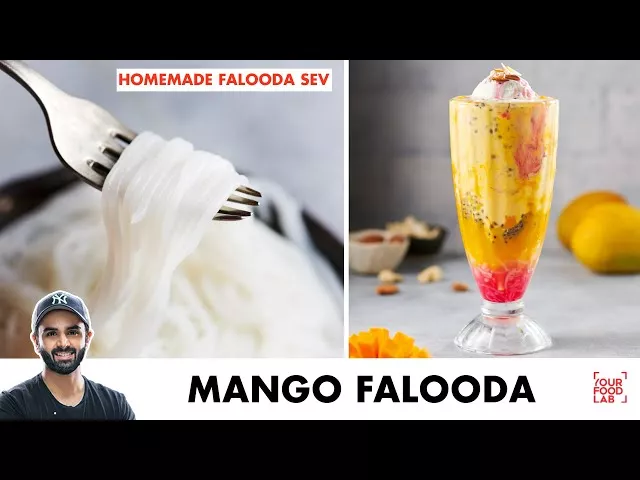 Ingredients:

• WATER AS REQUIRED
• ICE CUBES AS REQUIRED
• CORN FLOUR र 1 CUP
• WATER 2.5 CUPS
Method:
• To make the falooda sev you will first need to make an ice bath, in a large bowl pour some water & then add the ice cubes into it, your ice bath is ready, along with that you will also need a chakli maker mold with the thinnest plate which is easily available in the market.
• Now in a separate bowl add the conflour & 1 cup of the total water & whisk it to make a lump free mixture, then add the remaining water & mix well again.
• Pour this mixture in a nonstick pan & cook it over medium to low flame until it gets pasty & translucent, you will have to keep stirring the mixture continuously, this process will take upto 4-5 minutes.
• Once the mixture turns translucent add it into the mold carefully, use a napkin to hold the mold, fill it sufficiently & then pipe the mixture out using the mold directly over the ice bath, the falooda sev will set once it touches the ice-cold water, you can repeat the process with the remaining mixture & if the mixture gets cold you can reheat it in the pan while stirring it continuously.
• Let the falooda sev rest in the ice-cold water for 30 minutes.
• Your falooda sev is ready.
Sabja
Ingredients:
• SABJA 2 TBSP
• WATER AS REQUIRED
Method:
• Add the sabja in a bowl & add water over it, stir it well once & let it soak for 5 minutes.
• Your sabja is ready.
Mango milk & puree
Ingredients:
• MANGOS 4 NOS. (CHOPPED)
• CONDENSED MILK 250 GRAMS
• MILK 1 LITRE
Ingredients:
• To make mango puree, add the chopped mangos in a mixer grinder jar & blend it into a fine puree, remove ½ a cup of puree aside to use it while plating.
• In the same mixer grinder jar with the remaining mango puree add the condensed milk & milk, blend it well until all the ingredients combine.
• Your mango flavoured thick milk is ready, put it in the fridge & serve it chilled.
Assembly:
• ROSE SYRUP
• FALOODA
• MANGO PUREE
• SABJA
• MANGO CUBES
• ALMOND (SLIVERED)
• CASHEW (SLIVERED)
• MANGO MILK
• FALOODA
• SABJA
• MANGO PUREE
• ALMOND (SLIVERED)
• CASHEW (SLIVERED)
• MANGO MILK
• VANILLA ICE CREAM
• MANGO CUBES
• SABJA
• ROSE SYRUP
• ALMOND (SLIVERED)
• CASHEW |(SLIVERED)
• ROSE SYRUP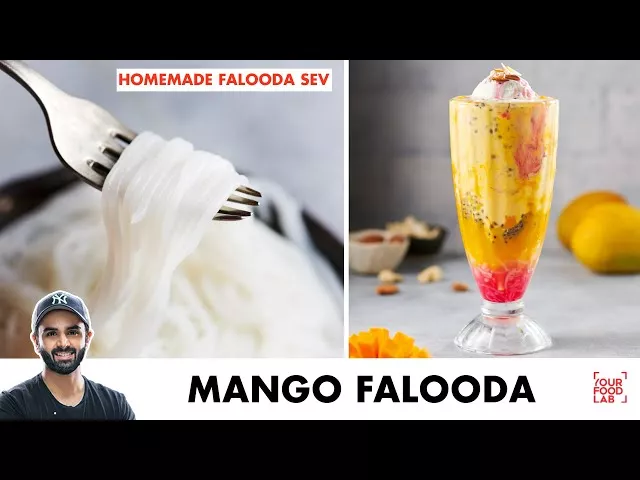 More recipes from channel - Your Food Lab
Other category recipes - Drinks
Add recipe