Beef and potato pie
How to cook Beef and potato pie: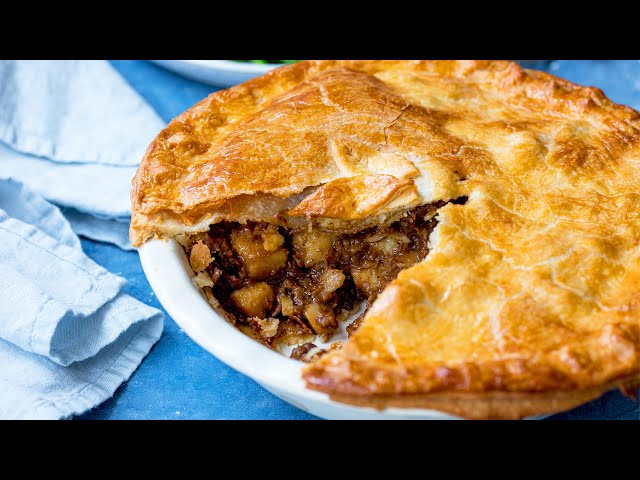 Ingredients:

Pie Filling:
1 tbsp olive oil
1 large brown onion - peeled and chopped
500 g (1.1 lb) braising beef - chopped into bite-sized chunks
1 tbsp plain (all-purpose) flour
¼ tsp salt
¼ tsp black pepper
600 ml (2.5 cups) hot beef stock - (water plus 2 stock cubes is fine)
2 large potatoes - peeled and chopped (about 300g/10.5oz each)
1 tsp Worcestershire sauce
½ tsp salt
½ tsp black pepper
Also:
1 egg - lightly whisked
2 x11oz (320g) packs of ready-rolled shortcrust pastry
INSTRUCTIONS
1. Preheat the oven to 150C/300F
2. Heat the oil in an oven-proof casserole dish and add in the onions. Cook on a medium-low heat for 5 minutes.
3. Place the beef in a bowl and mix it with the flour, salt and pepper.
4. Place it in the pan with the onions and cook on medium for about 5 minutes – until the meat is sealed and slightly browned all over. Give it a stir every so often so the meat doesn't stick.
5. Add the beef stock and half of the potatoes.
6. Add in the Worcestershire sauce and salt and pepper and stir everything together.
7. Bring to the boil, put a lid on the pan and place in the oven for 1 hour.
8. After an hour take out of the oven, give it a stir and add the rest of the potatoes. Add a splash of hot stock or boiled water if the meat is starting to look too dry. Put back in the oven and cook for an hour.
9. Take out of the oven and turn the oven up to 200C/400F. Remove the lid and give everything a gently stir. Leave to cool slightly for 5 minutes before assembling the pie.
10. Take a 25cm diameter circular pie dish, brush the rim of the dish with a little of the whisked egg.
11. Line the dish with pastry, so it overhangs the edge of the dish slightly.
12. Spoon the pie mix into the dish and top the pie with pastry.
13. Crimp the edges of the pastry by pinching it all the way round. (see picture above for how the crimp should look)
14. Cut off any excess pastry and brush the top of the pie all over with the egg wash. If you have any little holes in the top of the pie, you can use the excess pastry to make a couple of little leaves to cover it up. Eggwash the leaves too.
15. Use a knife to pierce a couple of holes in the centre of the pie – this is to allow any steam to escape.
16. Place the pie in the oven for 25-35 minutes until golden brown.
17. Serve with mashed potato green veg and carrots.
Other category recipes - Baking