Chicken Noodle Soup
How to cook Chicken Noodle Soup: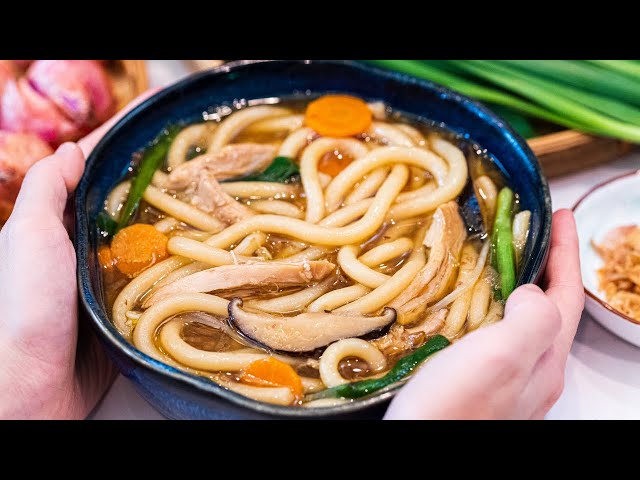 INGREDIENTS

2-3 tbsp of oil
5 shallots, sliced thinly
1 tbsp of garlic
1 stalk of celery, diced
1.5 tbsp of dried shrimp, soaked
4 dried shitake mushrooms, soaked
1.5 tbsp of soy sauce
1.5 tbsp of soy Paste
1 tsp salt or to taste
1 liter of unsalted chicken broth
450 grams (1 lb) of skinless and boneless chicken thigh
1 carrot, peeled and sliced thinly
500 grams (1.1 lb) of Taiwanese rice noodles or other noodles
A handful of garlic chives, cut into 2 inches long
A handful of bean sprouts
Bonito flakes as garnish, optional
Fried shallots as garnish, optional
INSTRUCTIONS
Soak 1.5 tbsp of dried shrimp and 4 pieces of dried shitake mushrooms 2 hours in advance. Dice the dried shrimp finely and slice the mushroom thinly. Combine the soaking liquid we will reserve it for the chicken soup later.
Minced 1 tbsp of garlic. slice 5 shallots thinly. Dice 1 stalk of celery. Peel one carrot and cut it into thin rounds. Rinse the bean sprouts. Cut the garlic chives into 2 inches long.
Drizzle in some cooking oil into a clay pot and turn the heat to medium-low. Saute the shallots until lightly golden on the edge. Add the minced garlic. Keep stirring until they are completely golden brown.
Add the diced celery, dry shrimp, and the shitake mushroom slices. Keep stirring for a few minutes to activate the aroma.
Season it with 1 tsp of salt, 1.5 tbsp of soy sauce, 1.5 tbsp of Taiwanese soy paste. stir for a minute or 2. Then pour in 1 liter of unsalted chicken stock along with the mushroom&shrimp soaking liquid. If you are using salted chicken stock, you will have to adjust the saltiness in this recipe. If you don't have soy paste, you can use oyster sauce as a replacement.
Bring this to a boil. Add the chicken tight. Turn the heat to low and simmer for 20 minutes. If you are not a fan of dark meat, you can use chicken breast but you will have to monitor the heat properly so you don't overcook it. Chicken thigh is more forgivable
Take the chicken out. Add the carrot slice and the noodles.
Use 2 forks to shred the chicken tight into bite-size pieces. Put the chicken back into the clay pot along with the garlic chives, and bean sprouts. Let it cook for a minute or 2. Give it a taste to adjust the flavor if needed.
Garnish it with some fried shallots and Japanese bonito flakes for some crunch and smoky flavor. Both of them are optional. This noodle soup is still delicious without them.
More recipes from channel - Souped Up Recipes
Other category recipes - Soups and stews recipes
Add recipe