The Peanut Butter Lasagna
How to cook The Peanut Butter Lasagna: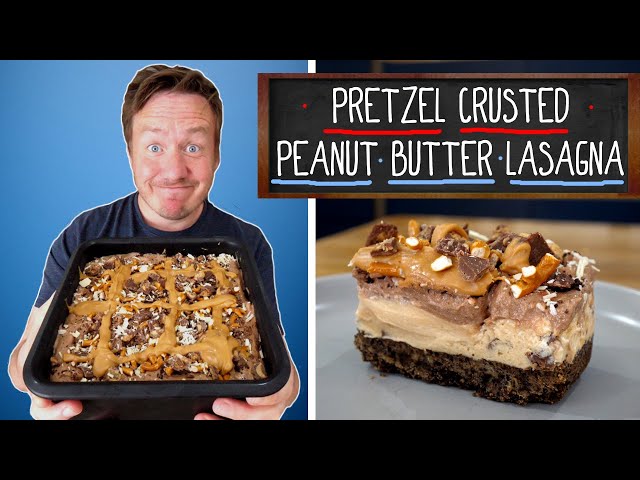 Wanted to make something for myself in today's video! A dessert with all my favourite things, it's not really a lasagna (or lasagne) at all, I just called it that to describe the layers really, but it sounds cool. We've got a baked oreo and pretzel crusted base (it could be no bake to be honest!), topped with a chunky peanut butter cream cheese, then a chocolate pudding layer finished with a medley of pretzel crumbs, grated chocolate and reeses peanut butter cups, truly amazing! This was one of those things I made that had to go straight away to friends and family, it was very, very addictive but is made for sharing.
Ingredients list:
Oreo pretzel crust
150g butter, melted
Approx 150g pretzels, whizzed up plus extra to serve in pieces
1 pack oreos, whizzed up
Peanut butter layer
600ml double cream, whipped to stiff peaks divided in 2 x 300ml bowls
225g full fat cream cheese
1tbsp butter, softened
4tbsp smooth peanut butter
150g icing sugar
1tsp vanilla extract
Handful reeses peanut butter cups chopped roughly
Chocolate layer
3 packs angel delight / chocolate pudding mix (approx 60g)
600ml milk
3tbsp smooth peanut butter
50g peanut butter chips (or use chunky peanut butter/more reeses)
300ml double cream, whipped to stiff peaks (from the 600ml above)
To serve
Extra whizzed up oreo crumbs
Some snapped pretzel bits
Reeses peanut butter cups
20g milk chocolate, grated
20g white chocolate, grated
2tbsp smooth peanut butter warmed in the microwave
Add recipe