Chicken Lollipop
How to cook Chicken Lollipop: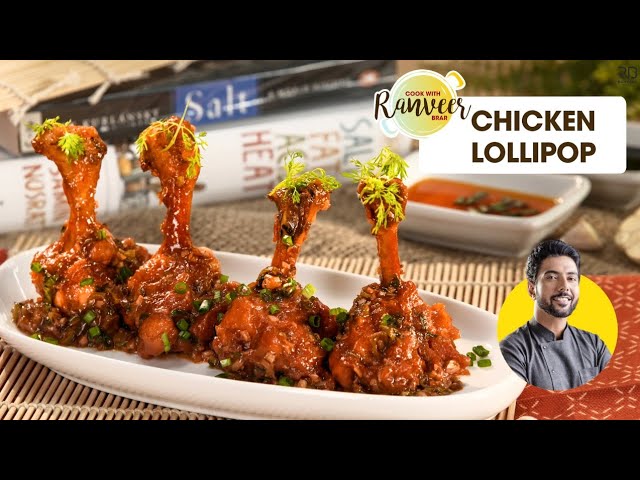 Ingredients

For Marination
1 tsp Red chili sauce,
1 tsp Ginger Garlic paste,
1 Egg white,
1 tsp light soy sauce
Salt to taste,
10-12 Chicken wings,
1 tsp Dark soy sauce
For Stock
10-12 Chicken Winglet,
2 cups Water
For Tempering
½ tbsp Oil,
1 inch Ginger, peeled, finely chopped,
4-5 Garlic cloves, finely chopped
3 Green chillies (less spicy, chopped)
2 tbsp Spring onion (white part, chopped)
Prepared Sauce Mixture,
1 ½ tbsp Cornstarch slurry
Fried Chicken Lollipop
1 tbsp Coriander leaves, chopped
1 tsp Chili oil
For Batter
1 ½ tsp Degi red chili powder,
1 cup Water (as required for thin batter)
Salt to taste,
1 tsp Vinegar,
⅓ cup Cornflour,
1 tsp Dark soy sauce,
½ tsp Powdered sugar,
Oil for frying
For Sauce
½ cup Chicken stock,
1 tsp Chilli flakes,
1 tbsp Red chilli sauce,
2-3 tbsp Tomato ketchup,
1 tsp Dark soy sauce,
½ tbsp Tender Coriander stems, chopped,
½ tsp Vinegar,
For Garnish
Spring onion, chopped,
Coriander sprig
Process
For Marination
In a bowl, add red chili sauce, green chili sauce, egg white, light soy sauce, salt to taste and mix it well.
Add chicken wings and mix everything well, add dark soy sauce and mix well.
Rest it for ½ hour and keep it aside for further use.
For Stock
In a sauce pot, add chicken winglet, water and reduce it to half.
Let all the flavors immerse into the stock. Keep it aside for further use.
For Batter
In a bowl, add degi red chili powder, water as required, salt to taste and mix well.
Add vinegar, cornflour, dark soy sauce, powdered sugar and make a thin batter.
Add the marinated chicken wings in the batter and coat it well.
For Frying
Heat oil in a deep kadai on low to medium flame.
Dip the coated lollipop into the hot oil and fry until it's crisp from all the sides and cooked well.
Drain on absorbent paper and keep it aside for further use.
For Sauce Mixture
In a bowl, add prepared stock, chili flakes, red chili sauce, tomato ketchup, dark soy sauce, tender coriander stems, vinegar and mix everything well.
Keep it aside for further use.
For Tempering
In wok or kadai, add oil, once it gets hot, add ginger, garlic, green chili, spring onion bulbs and saute it for 5-10 seconds.
Now, add prepared sauce mixture and cook for a while.
Add cornstarch slurry and mix well to thicken the sauce.
Add fried chicken lollipop, coriander leaves and toss it well.
Add chili oil and toss everything well.
Once the lollipop gets well coated, switch off the flame.
Transfer it into a serving plate, garnish with spring onion, coriander sprig and serve hot.
Other category recipes - Meat and poultry recipes