Spicy Paneer Naan Sandwich
Spicy Paneer Naan Sandwich
How to cook Spicy Paneer Naan Sandwich: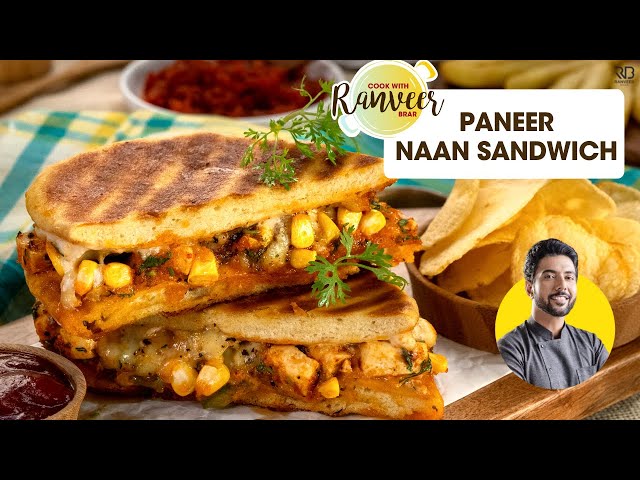 Ingredients

For Dough
2 cup Refined flour,
Salt to taste,
1 tbsp Powdered sugar,
1 tsp Baking powder,
1 tsp Baking soda,
Water as required,
2 tbsp Curd, beaten,
1 ½ tsp Oil,
Refined flour, (for dusting)
For Paste
1 large Onion, roughly slice,
1 medium size Tomatoes, roughly chopped,
2-4 Garlic cloves,
1 tbsp Oil,
For Peri Peri Sandwich Sauce
½ tbsp Oil,
Prepared Paste,
Little water,
3-4 tbsp Tomato ketchup,
Salt to taste,
½ tsp Sugar,
1 tsp Vinegar,
For Peri Peri Filling
200 gms Paneer, cut into small cubes,
2-4 tbsp Sweet corn kernels,
1 medium size Capscium, chopped,
2 Green chillies, chopped,
1 tsp Oregano,
1 ½ tbsp Coriander leaves, chopped,
Salt to taste,
2 heaped tbsp Prepared Peri Peri Sauce
For Assembling
Mayonnaise,
Prepared Peri Peri Filling,
Pizza cheese blend,
½ tsp Black peppercorns, crushed,
2-4 tbsp Butter, cubes (for toasting)
For Garnish
Process
For Dough
In a bowl, add refined flour, salt to taste, powdered sugar, baking powder, baking soda and mix well.
Now, add water, curd and make a soft dough.
Add some oil and knead it again, cover it with muslin cloth and rest it for 10 to 15 minutes.
For Peri Peri Sandwich Sauce
In a mixer grinder, add tomatoes, onions, garlic and oil and make coarse paste of it.
In a pan add oil, once it gets hot, add prepared paste and saute for 4-5 minutes on medium flame.
Sprinkle little water so it does not stick to the bottom, add tomato ketchup, salt to taste.
Add sugar, vinegar and mix well. Cook for 2-4 minutes and keep aside for further use.
For Peri Peri Filling
In a bowl, add paneer, corn kernels, capsicum, green chili, oregano, coriander leaves, salt to taste and prepare peri peri sandwich sauce.
Mix it well. Keep aside for further use.
For Panini Bread
Divide the dough into lemon sized balls.
Roll the dough into an oval flatbread shape.
Now, heat a pan over medium flame and place the prepared bread.
Sprinkle some water on it. Cover it with the lid and cook for 3-4 minutes on low flame on each side or until golden in color.
Follow the same process for other breads.
For Assembling
On prepared panini bread, apply mayonnaise, prepared peri peri filling, pizza cheese blend and black pepper powder.
Cover it with another slice of bread.
Heat a grill pan until it's hot, apply butter on the sandwich and grill on both the sides till the grill marks appear and it's golden brown in color.
Garnish it with coriander spring. Serve hot with ketchup and fries.
Complete recipe:
Other category recipes - Lunch recipes