Antipasto Salad
How to cook Antipasto Salad: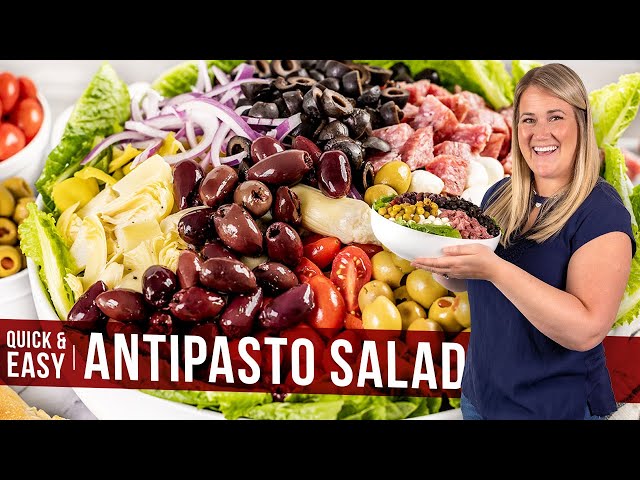 Ingredients

• 1 pint grape tomatoes halved
• 1 cup salami sliced or cubed into bite size
• 8 ounces fresh mini mozzarella cheese balls halved
• 1/2 cup sliced black olives
• 1/2 cup green olives
• 1/2 cup kalamata olive
• 1/2 cup artichoke hearts chopped
• 1/4 cup pepperoncinis roughly chopped
• 1/2 red onion diced
• 1/4 cup fresh basil chopped, for garnish
• 8 cups chopped romaine lettuce
Italian Dressing
• 1/2 cup extra-virgin olive oil
• 1/4 cup red wine vinegar
• 2 teaspoons mustard
• 1 teaspoon lemon juice
• 2 teaspoons Italian seasoning
• 1 teaspoon sugar
• 1/2 teaspoon garlic powder
• Pinch of red pepper flakes
Instructions
In a large mixing bowl, make your dressing by whisking together olive oil, vinegar, mustard, lemon juice, Italian seasoning, sugar, garlic powder, and red pepper flakes.
In a bowl, add in tomatoes, salami, mozzarella balls, olives, artichoke hearts, pepperoncini and red onion. Drizzle dressing over the ingredients. Toss to combine.
Cover bowl with plastic wrap and refrigerate for 1 hour before serving.
Serve on a bed of lettuce and garnish with basil.
Other category recipes - Salad recipes