Kala Chana Masala Curry
Kala Chana Recipe. Black Chickpea Curry. Kala Channa Masala Curry with detailed photo and video recipe.
*Recipe on video and text may differ from each other!
How to cook Kala Chana Masala Curry: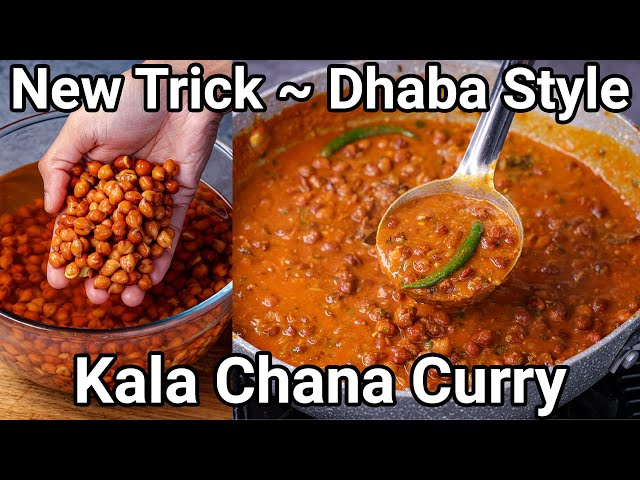 Kala Chana Recipe. Black Chickpea Curry. Kala Channa Masala Curry with detailed photo and video recipe. An easy and simple flavoured gravy-based curry recipe prepared with black chickpeas and assorted dry spices. It is one of the popular north Indian curry recipes shared with a wide range of Indian flatbreads and particularly shared with poori & bhatura. There are myriad ways of preparing this curry, but this post describes the popular Punjabi Dhaba style channa masala gravy recipe.
Kala Chana Masala Curry is a popular North Indian dish made with black chickpeas (kala chana) cooked in a flavorful and spicy tomato-based gravy. It is typically enjoyed with rice, roti (Indian bread), or naan. Here's a recipe to make Kala Chana Masala Curry:
Ingredients:
1 cup dried black chickpeas (kala chana), soaked overnight and drained
2 tablespoons oil
1 teaspoon cumin seeds
1 medium-sized onion, finely chopped
2 teaspoons ginger-garlic paste
2 medium-sized tomatoes, pureed
1 teaspoon coriander powder
1/2 teaspoon cumin powder
1/2 teaspoon turmeric powder
1/2 teaspoon red chili powder (adjust to taste)
1/2 teaspoon garam masala
Salt to taste
Chopped fresh coriander leaves for garnishing
For the spice blend:
1 teaspoon coriander seeds
1/2 teaspoon cumin seeds
1/2 teaspoon black peppercorns
2-3 dried red chilies
Instructions:
In a dry pan, roast the coriander seeds, cumin seeds, black peppercorns, and dried red chilies for the spice blend. Roast them on low heat until fragrant. Allow them to cool and then grind them into a fine powder using a spice grinder or mortar and pestle. Set aside.
Heat oil in a pressure cooker or a deep pot over medium heat. Add cumin seeds and let them splutter.
Add finely chopped onions and sauté until they turn golden brown.
Add ginger-garlic paste and sauté for a minute until the raw smell disappears.
Add the tomato puree and cook for a few minutes until the oil starts to separate from the mixture.
Add the ground spice blend (prepared in step 1), coriander powder, cumin powder, turmeric powder, red chili powder, garam masala, and salt. Mix well to combine the spices with the tomato mixture.
Add the soaked and drained black chickpeas (kala chana) to the pot and mix well, ensuring the chickpeas are coated with the spice mixture.
Add enough water to cover the chickpeas. If using a pressure cooker, cover it with the lid and cook for about 4-5 whistles or until the chickpeas are tender. If using a pot, cover it with a lid and simmer on low heat for about 45 minutes to 1 hour, or until the chickpeas are cooked through and soft.
Once the chickpeas are cooked, check the consistency of the gravy. If it is too thick, add a little water to adjust the consistency. Simmer for a few more minutes.
Garnish with chopped fresh coriander leaves and remove from heat.
Serve the Kala Chana Masala Curry hot with rice, roti, or naan. The spicy and flavorful gravy pairs perfectly with the nutty and hearty black chickpeas, making it a satisfying and comforting dish.
Other category recipes - Recipes