Easy Twisted Donut
How to cook Easy Twisted Donut: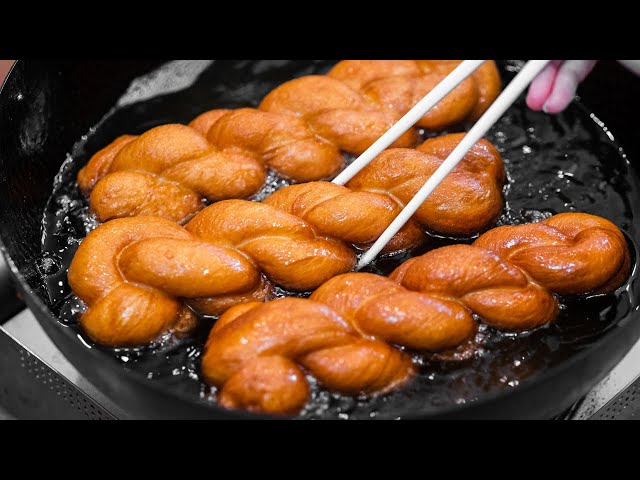 INGREDIENTS (makes 6 donuts)

2/3 cup (160g) of whole milk
2 tsp (6g) of yeast
2.5 tbsp (55g) of honey
1/2 tsp (3g) of salt
1 egg
2.5 cups (380g) of bread flour
3 tbsp of unsalted softened butter
FOR THE CINNAMON COATING
3 tbsp of sugar
2 tsp of cinnamon powder
INSTRUCTIONS
Microwave the cold milk for 20 seconds or until lukewarm. Mix the yeast with the milk and give it 5 minutes to bloom.
Add egg, honey, and salt and stir well. Add the bread flour and knead until a rough dough.
Knead the softened butter into the dough for ten minutes or until the dough is smooth and non-stick.
Shape the dough into a round ball. Cover and let it proof for 1.5 hours or until doubled in size.
Punch the dough to deflate, then divide it into 12 even pieces.
Roll each piece into a 20 inches long strip. Try to deflate the air bubbles as you roll so your donut won't have big pockets.
Use both of your hands to twist two strips in opposite directions. Bring two ends together, and your donut will braid naturally. Next, pinch the ends and tuck them under.
Put the donuts on a floured tray; cover them, and let them rise for another 30 minutes or until 1.5 times the size.
Bring the oil to 360 F. Carefully pick up the donut and deep fry them in batches for a couple of minutes per side. Once they are golden brown, you can take them out. When you deep fry them, always follow the order that you shaped them so the last one proof for the same amount of time.
You can also bake the dough in a 400F oven for 16-18 minutes. The baked version will be a bit dry on the outside, and the texture is more like bread than a donut.
More recipes from channel - Souped Up Recipes
Other category recipes - Baking
Add recipe