Chicken Teriyaki Pineapple Boats
How to cook Chicken Teriyaki Pineapple Boats: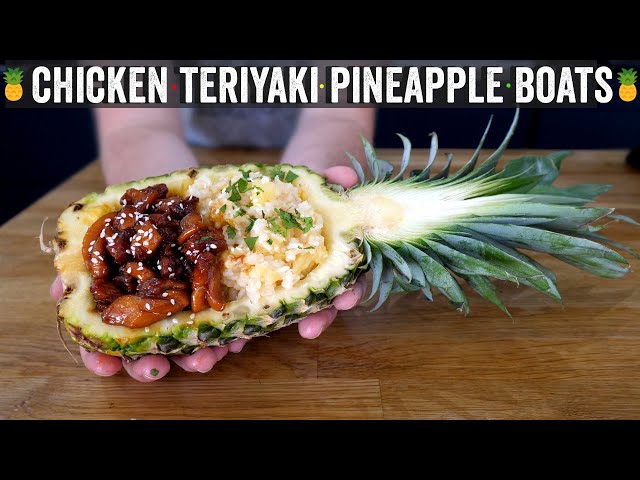 How to make a pineapple bowl teriyaki chicken! This is one of my favourite things in general – eating a food from an edible bowl that forms the final dish. Obviously we don't want to see folks eating pineapple skins or anything crazy (although there are pineapple skin recipes) … we re-use the pineapple inside and cook it in with the rice and serve it back in the pineapple with a sweet, yet tangy, simple chicken teriyaki. The chicken could easily be replaced with more vegetables too if you are vegetarian. This was super delicious! Hope you enjoy it.
Ingredients list:

Rice
250ml cold water
Pinch salt
½ tsp chili flakes (optional, omit if you wish)
1tbsp butter
1tsp sugar
225g long grain rice
1 large pineapple
250g reserved pineapple (from the large pineapple) chopped
Handful coriander, chopped
Teriyaki chicken
2 cloves garlic, finely chopped
100ml low salt soy sauce
100g honey
3tbsp rice wine vinegar
½ tsp ginger
750g boneless & skinless chicken thighs, chopped into chunks
2tsp olive oil
2tsp sesame seeds
More recipes from channel - Barry Lewis
Other category recipes - Meat and poultry recipes
Add recipe