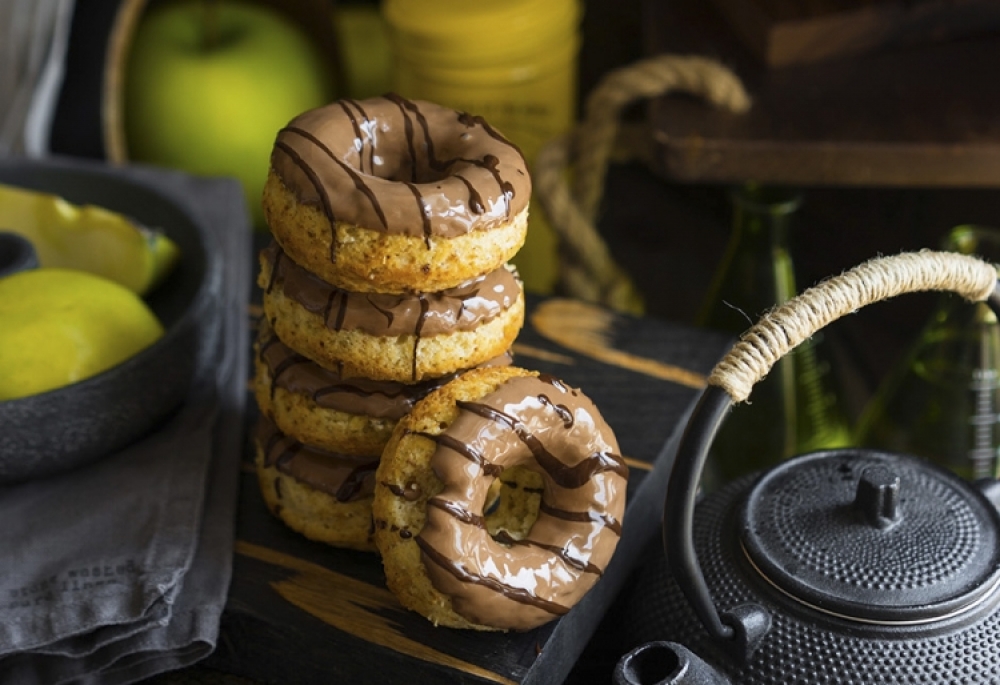 Spicy donuts from the oven with apples
There are two kinds of people in this world: some of them go crazy on donuts, others... well you know. However, you can always find a compromise and make a similar dessert, Im talking about the donuts from the oven. We add cinnamon and ginger to the dough, yes, yes - its interesting. Their flavour strength can work wonders with any baking, you will make sure of it! But there is more to come, there is one more zest in this pastry: there is nothing more suitable for apples than cinnamon . These spices will help to make our dessert very juicy, soft and delicious. The technology of preparation and composition of ingredients will surprise you with its simplicity but at the same time, we will get a true masterpiece!
Steps
1.

Combine flour, cinnamon and dried ginger, baking powder and sugar in a bowl. Stir the whole mass intensively and carefully, because we need the baking powder, as well as the spices, were very evenly distributed in the future dough. Of course, you can discard cinnamon and ginger, or to replace/supply them with other spices — it is up to your taste. Now we shall be concerned with the condensed milk.

2.

Melt butter. Add one egg. And finally grate an apple. Here you can play with the filling. Add chopped nuts, cereal , dried berries.

3.

Mix the ready dough thoroughly and place it into the pastry bag.

4.

Now it will be convinient to use it. Put the dough in the forms with the expectation that it will rise about a half. It is obvious that these are not real donuts (those are cooked only in fat), so you can safely use any forms of a small size and make cupcakes, mini cakes or other variant.

5.

Bake at 180 degrees (top-bottom) until tender.

6.

Check with a skewer. As a glaze you can use melted milk chocolate.
Add recipe