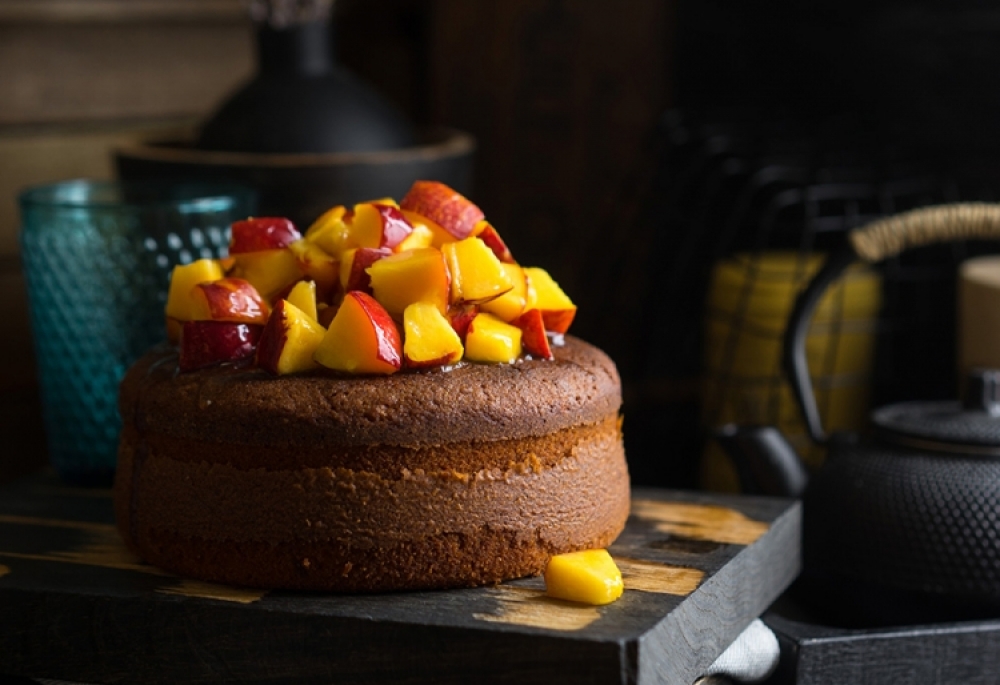 Simple pie with fresh fruit and berries
Everybody wants a recipe of a dessert with fresh berries and fruit — take it! Its time for pie, simple and easy to prepare, so you dont need much time to cook it. A juicy, crumbly pie with your favorite berries and fruit (you can add mint and cinnamon, why not) is not difficult to make, but it looks really magical.
Steps
1.

First of all, combine eggs and sugar in a bowl of a mixer.

2.

Whisk on a medium-high speed for 5-7 minutes, until you get lush white foam.

3.

Carefully add soft butter, water, baking powder and flour.

4.

Mix well. Then enter peanut flour. In this recipe almond one is used, but you can take any nut flour, which you can easily cook by yourself. To do this, chop nuts in a blender, coffee grinder or use a knife with a rolling pin. In general, it does not matter if you have peanut dust or pieces of different sizes.

5.

Make a French shirt for a 18 cm baking tray. Lay the bottom with a parchment.

6.

Gently pour batter into the form.

7.

Bake in a preheated up to 180 degrees oven (top and bottom) for about an hour. Check the readiness with a skewer.

8.

Dont worry if the pie is well browned. The main thing that it is not raw. Cool the finished pie for a few minutes in a tray on a grill, and then remove it and return on the grill one more time.

9. If the pie will not be served immediately, wrap it in foil. Use any berries and fruit for decoration. You can mix them with honey or a neutral glaze for not to be dried out and a to be glued together a bit.


10.

Decorate the pie just before serving.

11.

As you can see, it is amazingly loose and crumbly inside. But most importantly, it is extremely juicy, thanks to the nut flour in the recipe.
Add recipe