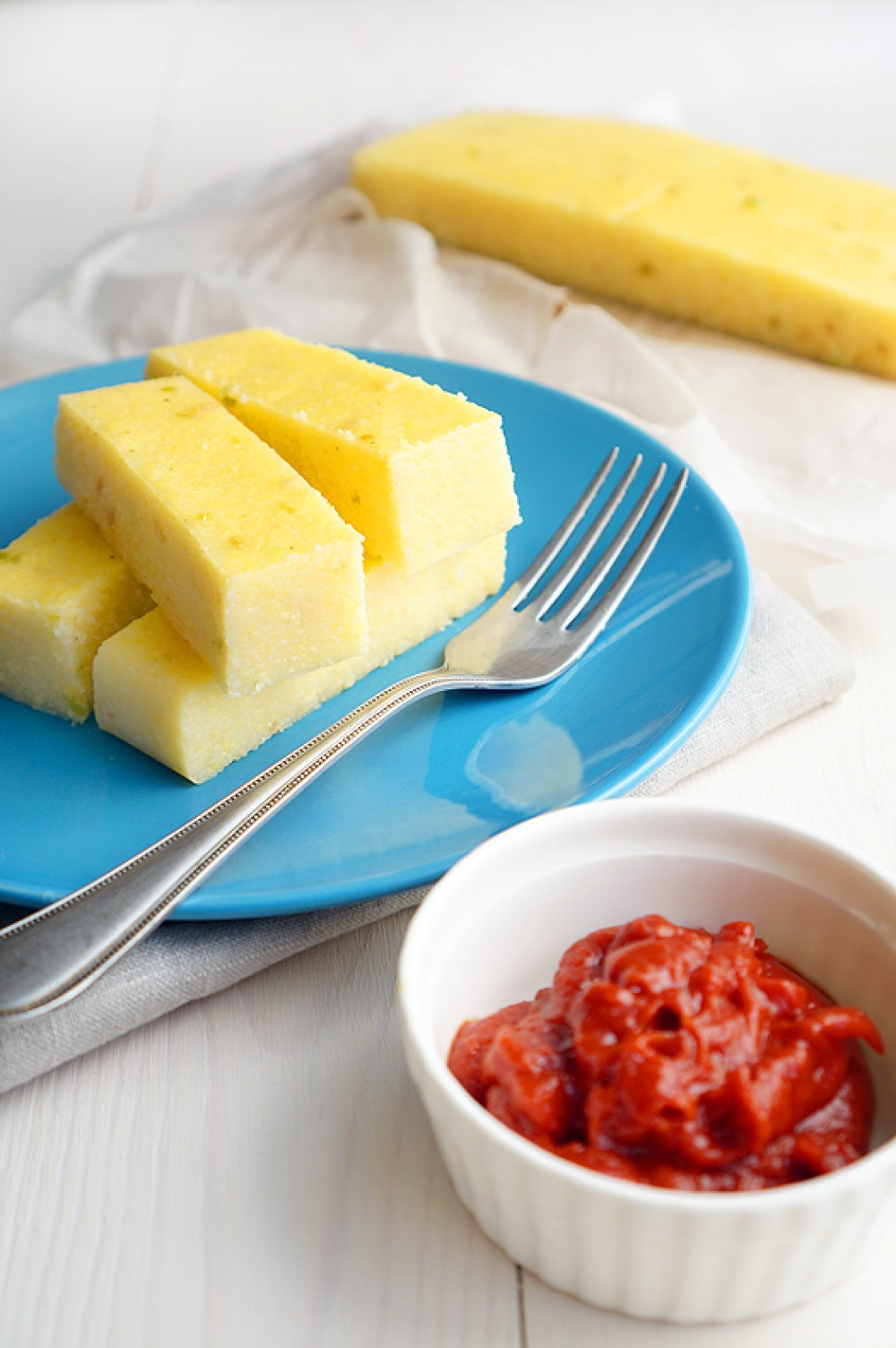 Homemade Polenta
Sometimes you want to diversify menu with something unusual, but at the same time easy to prepare. What about me, this is more often exacerbated in the summer when pasta and rice, as side dishes, are perceived as something more winter. Polenta (polenta) is crushed corn grains and the eponymous dish of Italian cuisine. Polenta, as a rule, is baked with cheese until a crust is formed and served under different sauces. Polenta and dishes from it are widely distributed in northern Italy, especially in Lombardy and Friuli-Venezia Giulia. It is also popular in the countries of the Balkan Peninsula, as well as in the south of Switzerland. And although in fact, polenta is more garnish, it is completely independent. I like her light corn taste, it does not take attention, but at the same time more charismatic than rice, for example.
Steps
1. It is easy, bring the water (800 g) to a boil in a wide saucepan, slowly pour the rump (150 g), stir with a wooden spatula. If you decide to immediately pour out the entire polenta – you will get large lumps.


2. Reduce heat to a minimum and stir constantly. And at this time finely chop the hot pepper (1 pc) and a pair of cloves of garlic. Fry in olive oil for 2 minutes, we do not need a crust to appear. Take it away from the fire.


3. Polenta will increase in volume, if you hold a spatula on the bottom, there will be an empty trail. So polenta is ready. Do not worry, you cannot digest it, so it is better to hold it longer if you doubt it. Grate the Parmesan (100 g) or another cheese on a medium grater.


4. Add pepper with garlic and cheese in polenta, mix well.


5. Lubricate the baking dish with oil (or lay the parchment) and pour out the hot polenta. The layer should be about 2 cm, this is the most optimal size of future bars.


6. Allow the mixture to cool completely down, this will take an hour and a half. Turn the mold over, the polenta will easily come out of it. Cut into random pieces and serve with sauces or as a side dish.

Add recipe