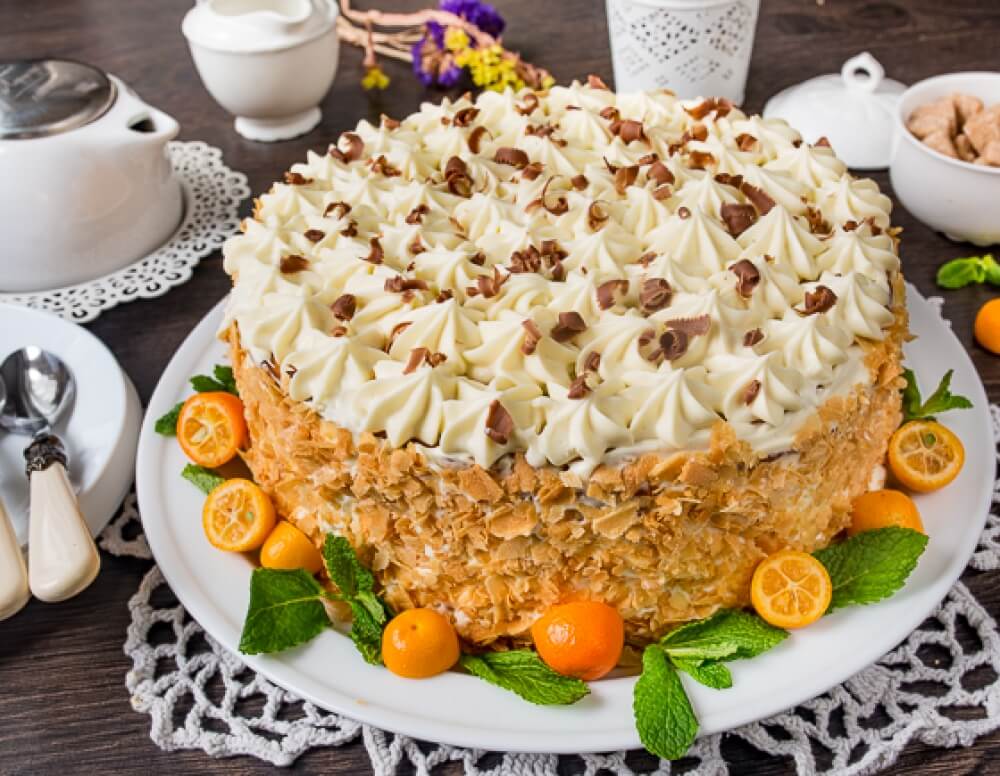 Milky Girl Cake
The main ingredient of the cake Milk girl is condensed milk. It is the condensed milk that makes the cake Milk girl with an incomparable taste and aroma. There are many recipes of the cake milk girl, all of them are good. But this one is the best in our opinion.
Steps
1. With cream, I made my will – according to the classics most often whipped cream with powdered sugar or condensed milk are used for a layer. I put mascarpone here, which I never regretted. If you do not want and / or cannot use this cheese, just whip sugar powder with 500 ml of cream. For the dough, beat the eggs with condensed milk.


2. Add sifted flour with salt and baking powder, mix. Add the melted butter and knead a not very thick dough.


3. Bake cakes. Take a sheet of parchment, put it on the board from a detachable shape. In the center put 2 tablespoons of the dough and evenly distributed inside the sides.


5. Bake at 180 degrees for 6-7 minutes. Repeat with the remaining dough. Cool the cakes. I got 8 pieces. Alternatively, you can do it without mold. Just put a plate of suitable diameter on the parchment and circle it with a pencil. Turn the parchment with the pencil down and fill the dyed circle with the dough. Cook the cream. Mash mascarpone of room temperature with the spatula to a soft state. Whip the cream with powder. Connect a third of the cream with mascarpone and gently mix until smooth. Add the remaining cream and mix.


6. Exfoliate the cakes with cream, pour over each layer with a chocolate grated on a fine grater. Cover the side and the top of the cake with the remains of the cream. Decorate to your taste and desire – I have prepared for this a little more cream.


7. Leave the cake in the fridge for at least 4 hours or better the night. Cut and serve.

Add recipe