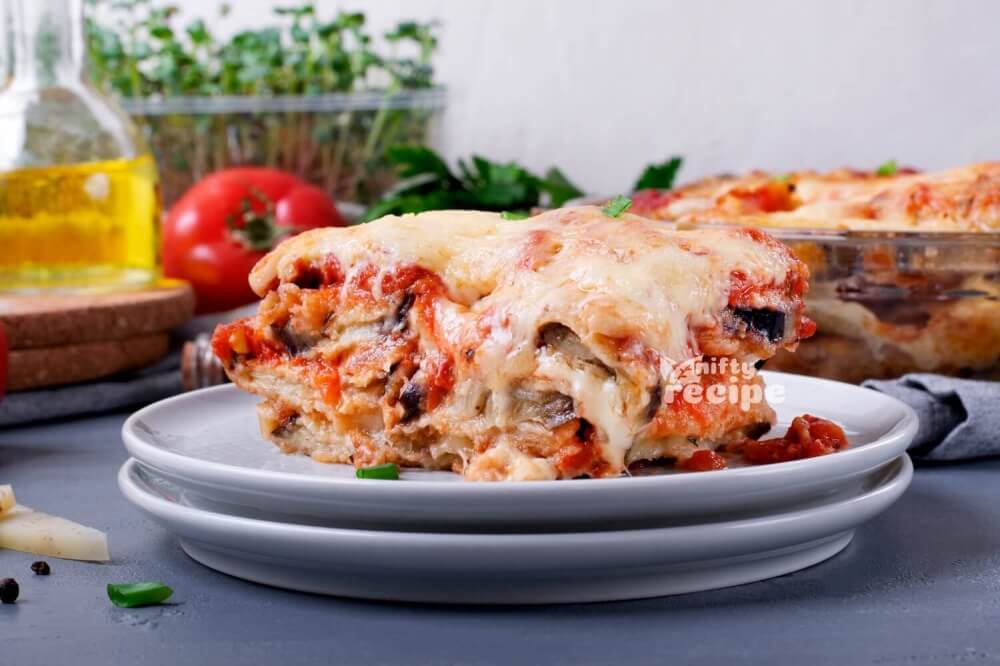 Eggplant Parmesan with Fresh Mozzarella
Very tasty baked eggplant parmesan, soulful Italian and appetizing! If you are not indifferent to eggplant and hard cheese, this dish is exactly for you!
Eggplant Parmesan
Steps
1.

Let's prepare the ingredients for eggplant Parmesan recipe. If the eggplants are large, then 2 pieces will be enough. Mozzarella can be used both in the form of small balls (each ball is divided in half) and in the form of a bar (for baking), cut into slices. In a sufficient amount of water, let's dissolve so much salt that a strong salt brine is obtained. Eggplant cut into circles about 0.5 cm thick each and put in brine for 20-30 minutes. At this time, turn on the oven to warm up to 220 ° C.

3. Next, pour canned tomatoes into garlic oil and stew them on a minimum heat, without covering the frying pan with a lid, for about 15 minutes. It's necessary to cook the sauce a little to evaporate the extra liquid. At the end of cooking, add dried basil to the sauce. If tomatoes are too sour, add a little sugar (about ½ parts), as well as seasoning with salt and pepper to taste. Take the sauce off the fire and let it be infused.


5.

Transfer the eggplant circles into the sieve to drain all the brine. Dry the circles a little with paper towels. Each circle of eggplant one by one coat first in flour, then in a whipped egg and, finally, in a mixture of grated parmesan and breadcrumbs. Put the eggplant in one row on a baking sheet and spray with vegetable oil (1 tbsp.). Put the baking sheet in the heated oven for 20 minutes. After about 10 minutes, the baked eggplants need to be turned over so that they are evenly redden.

6.

Get the baking sheet with eggplants from the oven and immediately reduce the temperature to 200-205 °C. Let's gather the easy eggplant Parmesan casserole: put 1/3 of tomato sauce on the bottom of the form for baking, then put eggplants in one layer, and on top ½ part of mozzarella and 1/3 part of parmesan. Then again eggplant (1/3 part), tomato sauce (1/3 part), the remaining mozzarella (1/2 part) and parmesan (1/3 part).

8. Let's leave the finished casserole for 10-15 minutes in baking form, and then it can be served by cutting into serving pieces and decorating with fresh greenery.

Eggplant parmesan with fresh mozzarella is very tasty and very cheesy. All the ingredients complement each other perfectly, as a result we got a hearty dish without meat.
Add recipe