Lunch Lady Peanut Butter Bars
How to cook Lunch Lady Peanut Butter Bars: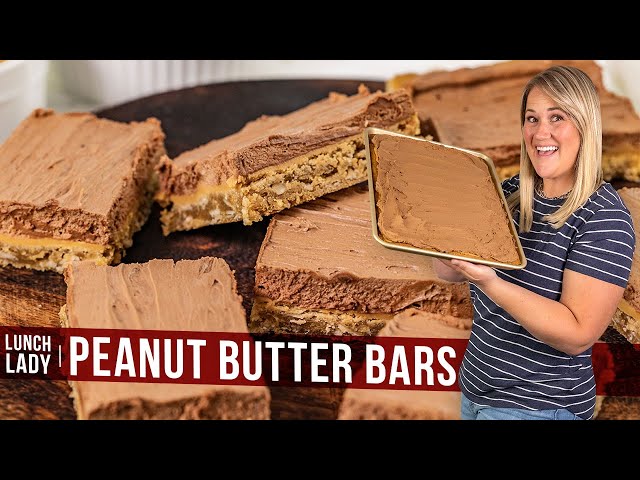 Featuring a peanut butter fudge center and a generous amount of homemade chocolate fudge frosting, lunch lady peanut butter bars are a classic childhood favorite! You're going to love them!
Ingredients
Crust:
• 1 cup salted butter softened
• 1 cup granulated sugar
• 1 cup brown sugar firmly packed
• 1 cup peanut butter
• 2 large eggs
• 1 teaspoon vanilla extract
• 2 cups old fashioned rolled oats
• 2 cups all-purpose flour
• 1 teaspoon baking soda
• 1 teaspoon salt
Peanut Butter Fudge Layer:
• 1 1/2 cups peanut butter
• 1/2 cup powdered sugar
• 1/4 cup salted butter melted
Chocolate Frosting:
• 1 cup salted butter softened
• 1/4 cup milk
• 1/3 cup heavy cream
• 1/2 cup cocoa powder
• 5 cups powdered sugar
Instructions
Preheat oven to 350 degrees Fahrenheit and grease an 18x13 baking sheet with non-stick spray.
Crust:
In a large bowl or upright stand mixer, cream together butter, sugar, and brown sugar.
Add peanut butter, eggs, and vanilla. Mix to combine.
Add oats, flour, baking soda, and salt, and mix until well combined.
Add the dough to the greased baking sheet and bake for 14-16 minutes.
Peanut Butter Fudge Layer:
In a bowl combine powdered sugar, and melted butter. Mix until smooth.
Add in peanut butter and mix until smooth.
Once crust is cooked and while still warm, drop spoonfuls of the peanut butter fudge across the warm crust. Let melt a bit then spread across the crust. Let cool completely.
Chocolate Frosting:
Mix all ingredients together with a hand mixer or upright stand mixer until combined, smooth, and a bit fluffy, about 3-4 minutes.
Spread frosting onto cooled peanut butter fudge layer. Slice into bars and enjoy!
More recipes from channel - The Stay At Home Chef
Other category recipes - Desserts
Add recipe